KK Broadcast Engineering
AM Radio Ground System Construction and Evaluation
General Radio Engineering Services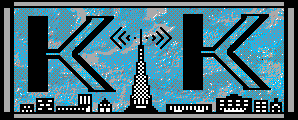 51 Ridge Ln
Lawrenceburg, TN 38464-6473

(931) 766-2999 Fax (931) 766-3974

WELCOME

KK Broadcast Engineering is a full service broadcast engineering company providing quality engineering services to the Middle Tennessee and North Alabama areas.

The links on the bottom of the page will tell you more about who I am and what I do.

If you encounter problems with anything on this page please email me and let me know.
Later.
Please Sign My Guest Book Read My Guest Book
This page was last updated on 03/20/2000
Description of Services Provided by KK Broadcast Engineering
Pictures of stuff that I have suffered through and some that didn't really require much discomfort. You be the judge of which is which.
A little info about myself
Send me an email.
A little info about my helpers
Send me an Epage
Some of my Favorite Links
A list of my clients
Now you can pay KK Broadcast
Engineering or AM Ground
Systems Co. invoices
using the PayPal secure
server
A look at an actual AM IBOC audio plot.
a





Click on the Weather Gizmo above to see what the
weather is doing here in Middle Tennessee

Since Counter was Started